Hello again, Pet Fashion Professionals! Betcha didn't know it was Social Pet Working Month. That got me thinking…what does one wear to be stylish when one is social pet working? Well, it became like a kid in a candy store thing, there were so many fun choices! We'll break them down by type of event you might take your little munchkin to; embellishments reflecting personal style, where appropriate,  is encouraged!
The Business Professional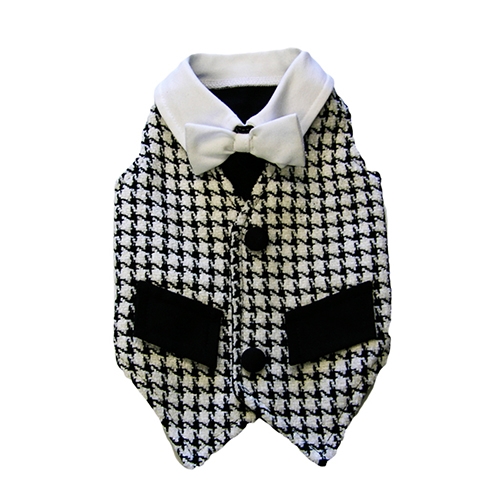 Whether it's Take Your Dog To Work Day or a pet conference excursion, creating the smart professional look with flair is a great skill to own. How do we do it? Choose timeless pieces and then dress them up, just enough to establish your own personal style. I love the black and white look. It never goes out of fashion. The pink rose pop of color adds just the right touch. Our boy's vest is smart, fashionable herringbone. For those more sophisticated boys, a small brooch on the back will make you unforgettable. Clients, beware. You won't be able to resist these canines' charms!
Casual Cool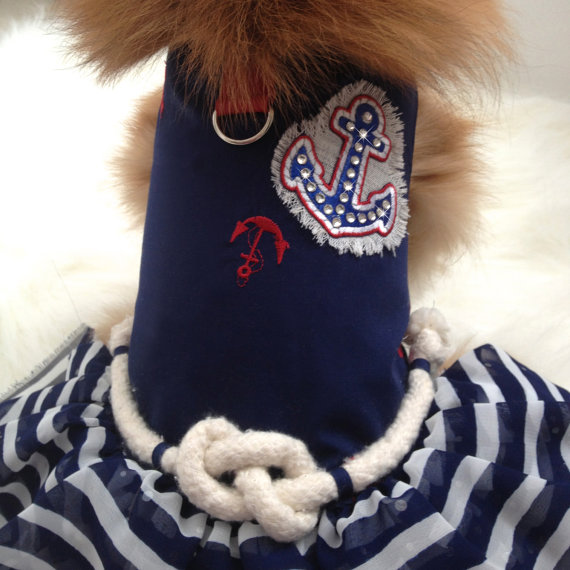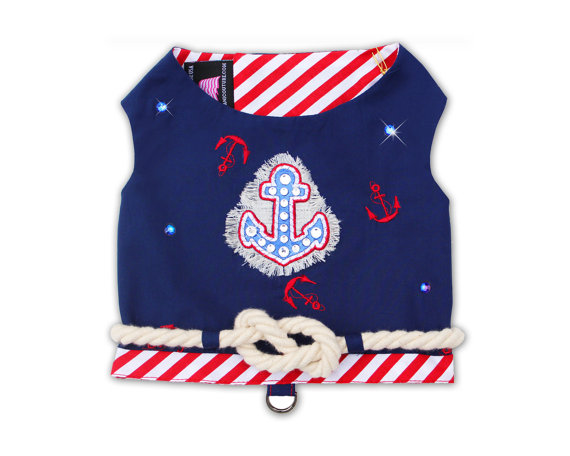 One of my favorite pet fashion looks for spring/summer is nautical. It's just plain fun! For casual events, especially something outdoors or beachy, these are perfect. Olga Yuditsky of Orostani Couture designed them and they are matching. So, whether you have a boy or girl, they'll look spectacular! For the girls, if mommy wants to add a tiny bit more sparkle with maybe a cute dangle from the D ring, that could be a nice touch.
Party Time!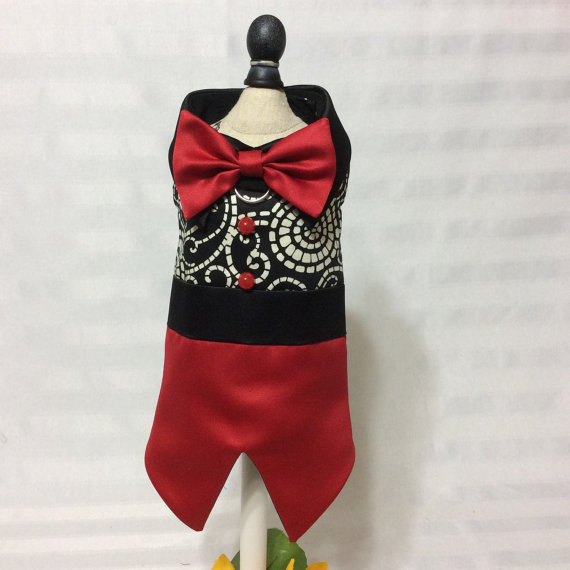 Fancy parties are the time to kick up our heels! Have fun with it and represent. I've mixed it up a bit here, with Rebecca Bissi of Chien Coature's beautiful english garden dress and Marina Acosta of Little Paws Boutique on Etsy creating the Sophisticated Male Dog vest. I love them both. No embellishments needed with these as Rebecca includes her signature Diva Dangle and Marina's vest is a statement in and of itself.
Go forth and prosper, social pet workers! Conquer each event and meeting with stylish aplomb. The best part? With a great foundation piece, the look becomes effortless. See you next month!
How are you celebrating Social Pet Working Month?
Want fresh news on fabulous fashion & how to live a stylish life with your pets? Get it here, with a dash of Jody's style, at Bark & Swagger (http://www.barkandswagger.com). Enjoy expert product reviews, giveaways and prizes first when you join the Bark & Swagger Family Style Team. Brought to you by Jody Miller-Young…pet fashion expert, designer, journalist and radio host.