Love is in the air, and if you don't feel it, you will. The big V, as in Valentine's, Day is around the corner and who doesn't like to do something nice for their fur kids to celebrate! I've curated some cool Valentine's Day accessories, so let's get comfy, grab our favorite beverage and position the rose colored glasses firmly on face (life always looks so pretty that way…). It's all hearts and flowers from here (and, maybe, a cherry or two).
Have Breed, Can Travel…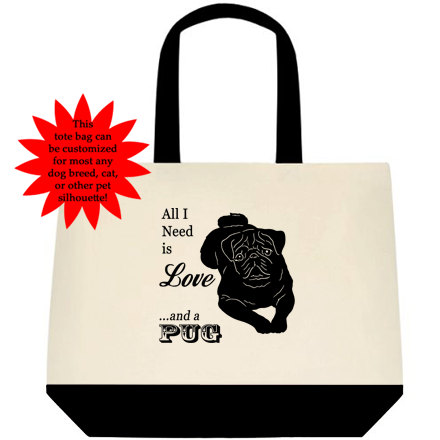 OK, stop! This is the cutest thing ever, by Etsy shop owner, Desiree, of ShoppeDesiLu. I chose this one to showcase, because our fearless leader, Laurren Darr, has a passion for Pugs! But, you can order almost any breed tote to rock your baby's silhouette.
Great for your pup's food, water bottle, dishes, treats, toys, and blanket. Measuring 19″ x 15″ x 6″, this adorbs and sturdy canvas tote is made using Adobe Photoshop Elements and special ink. How cool! Cat lovers, Desiree also offers an Obey the Cat tote, amongst other designs. She does custom, too! And the tote is just $20.00!
Luxe Your Look…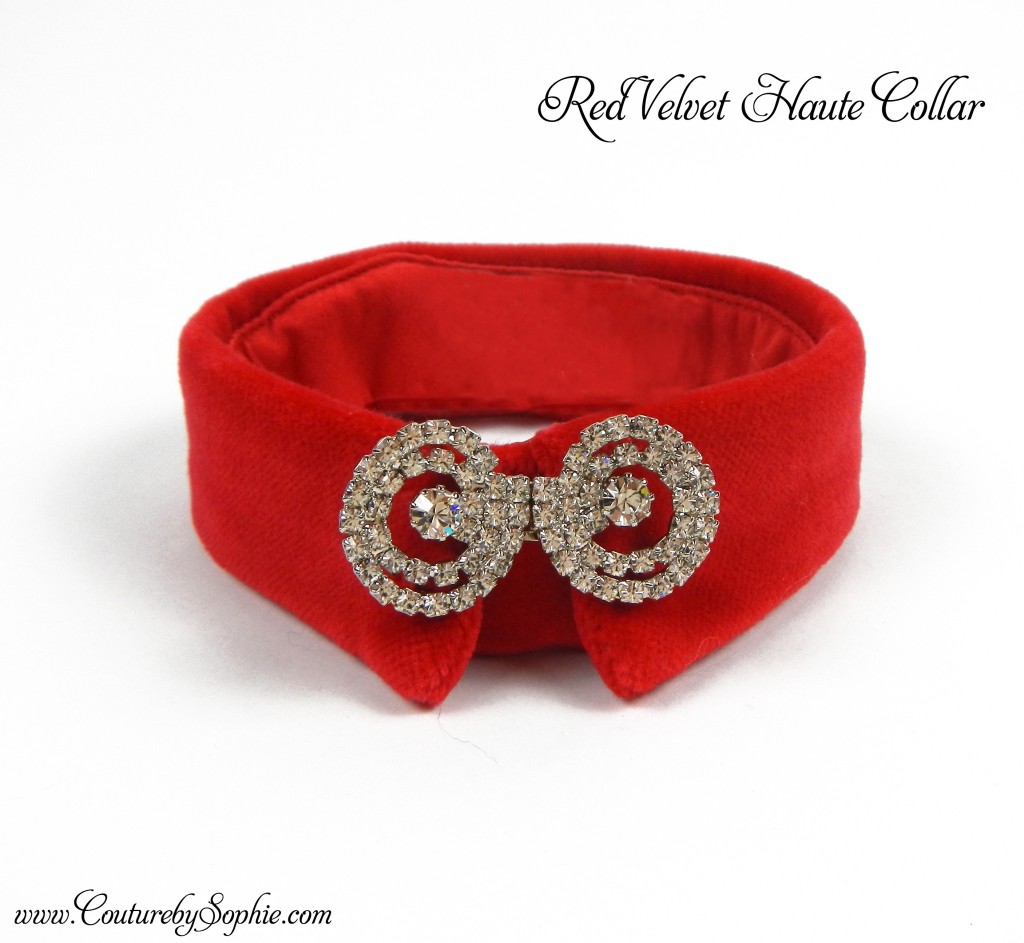 A little, well-placed bling goes a long way, and the Couture by Sophie Red Velvet Haute Collar says "I Love You" in luxury. In the spirit of full disclosure, Couture by Sophie is my luxury pet apparel brand, but I couldn't help myself! 🙂  This piece screams a pampered pooch's Valentine. The Haute Collar was made in a limited edition run, but is also made to measure.
Created from lush 100% cotton velvet, with a cherry red satin lining, and a dazzling Swarovski crystal closure. Turning heads at $68.00.
Dog Lover's Delicacies…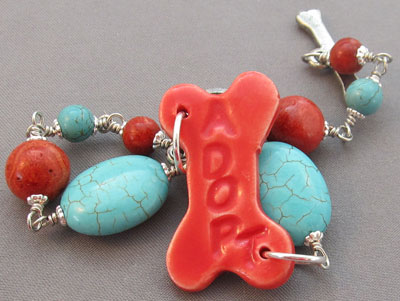 I love the brand, For Love of a Dog. Owner Sue Kottwitz designs and makes really pretty jewelry for dog lovers, all with a message. I chose this, which highlights rescuing, made from fat blue turquoise oval and chubby red coral gemstone beads, connected with twisted silver jeweler's wire. The featured piece is a handmade porcelain ceramic scarlet dog bone, proclaiming ADOPT. The addition of a delicate antique silver dog collar and dog bone toggle clasp is charming.
For Love of a Dog jewelry is either made by Sue, or by other artisans. Some are vintage pieces, all are handmade.  Each jewelry piece is one of a kind. And, the best thing is they offer an affiliate program, so animal rescue and advocacy groups can raise funds for their groups with from the sale of jewelry.
Sue has an interesting story. She was a mental health administrator, until she became so fascinated with gemstones and natural healing that she quit her day job to create jewelry.  Sue grew up in the suburbs of a major city, but now lives on a farm in the Missouri Ozarks. What has remained constant in her life is her love for dogs.
This lovely bracelet is only $55.00.
Look Out! It's the Caped Canine Crusader!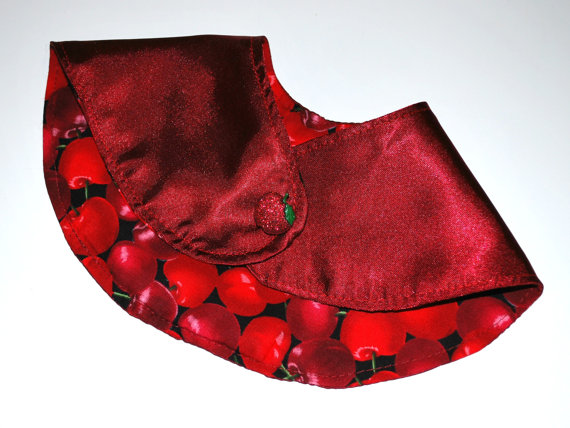 This is too much fun! For those who love the quirky, left of center fashion (guilty, as charged, over here!), this burgundy red satin dog cape with a cotton lining of bright cherries could be your must-have. It's a conversation piece and great for a Valentine's Day home hang of the downtown artsy set. I like the shimmery strawberry button feature, myself (ok, I like the cherries, too). 🙂 Made by Hannah of the RubMyBelly Etsy shop. A steal at $11.50.
Summary
Hope you enjoyed our jaunt through the Valentine's Day Gifts for Dogs awesome accessories patch. Does your dog have a special someone? Can you say Valentine's Day play-DATE?!
Next month, I'll be covering the New York Pet Fashion Show, so stay tuned for some highlights from their four, fabulous runway shows. It's a very special theme this year, highlighting one of my favorite eras – the fashion of the 60's & 70's. Hope to see some of you there!
Do you have favorite romantic fashion pieces you pull out for Valentine's Day? What about for your pup? Tell us about it in the Comments!
Want more info on fabulous dog fashions, expert product reviews, giveaways and prizes? That's why Bark & Swagger created the "SwagTeam Community." Grab your Free invitation at http://barkandswagger.com/ As a bonus, you'll receive "The Top 10 Most Popular Holiday Gifts for Dogs" report. Brought to you by Jody Miller-Young…pet fashion expert, designer, writer and radio host.