Sizzling summer pet fashion is once again upon us, and that means trips to the beach and pool. But, putting on last year's pieces are so, well…last year! Mom always told me it's a good thing to inject fresh trends into an existing wardrobe. And, we should always listen to mom, right? Well, anyway…let's have some fun. I've discovered great summer fashion styles for beach baes, and I just have to share!
Fashiontastic Floral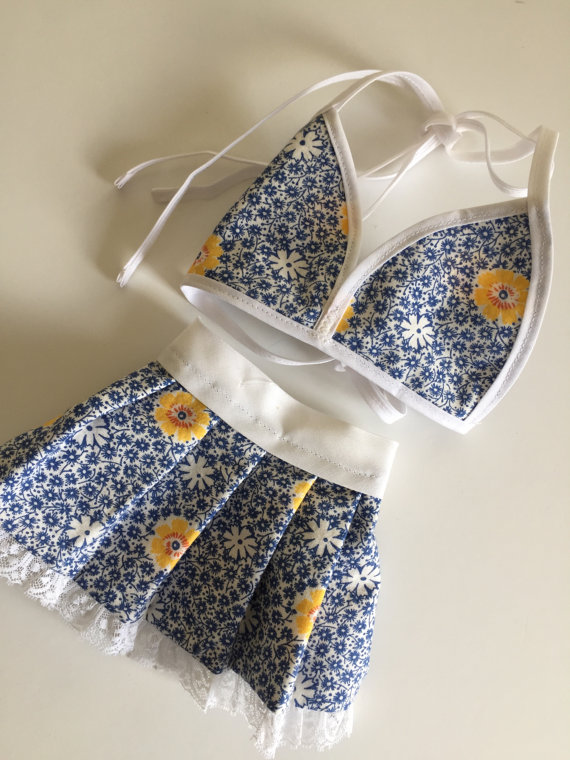 I fell hard for this bathing suit, made by Tricia and Gail of PetPawTeek. It's too adorable and on trend for words! Petite flowers, bursts of yellow, lace trim, blues…we've just ticked off four big spring/summer trends right there! And, look at those pleats and wide waistband. Aw….rock this bikini and you might just find yourself as the next doggy star of Instagram! Cotton fabric, bias tape and velcro. All sizes.
The Stripes Have It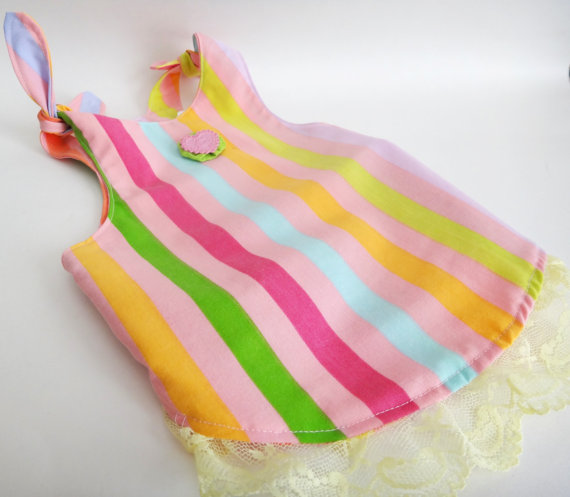 Tricia and Gail of PetPawTeek are on fire, because I also love their striped sundress. The bold colored verticals say modern and fresh; the heart embellishment and pastel lace soften the edges and the knotted shoulders are pure fun.  Made from cool cotton, it just slips over the head and ties at the shoulders, so it's adjustable. The handmade heart says Tea Party. Cute. Wear this and turn heads, girls, turn heads. All sizes.
Tribal Seafare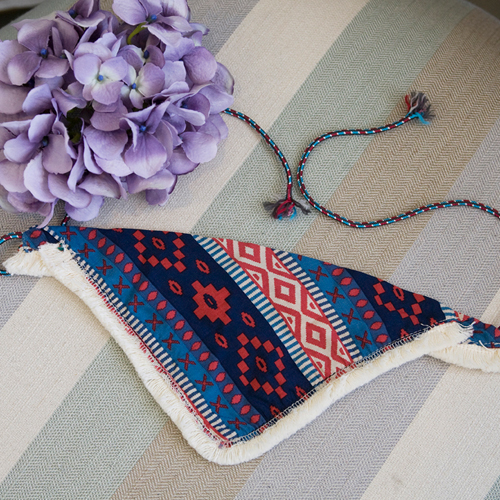 This awesome scarf on BitchNewYork designed by Pinupdog caught my eye instantly. The material is vintage; the pattern a Navajo-meets-late 60's vibe. And, the fringed edges gives it that extra cool factor. I love this scarf and you will, too, because no other pup will have anything like it on. Fashion forward all the way, baby!
Hawaii Five Oh!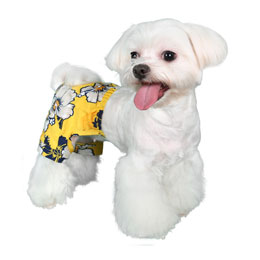 Aloha, boys! Welcome to your stylish world. Ok, ok, we know…yellow is hot; florals are hot. And, your little swim trunks make you look hot! So, what's a defenseless princess to do? I'd say, go wit it, girls! A cool 50% cotton/50% poly blend, adorbs little pockets with grommet detailing, elastic waistband and velcro closures. All sizes. BitchNewYork.
Jeez, I'm just sitting here grinning like a looney person. I hope you had as much fun with this as I did. There's so many great pieces out there; we just have to discover them and I love finding treasures to share with you! Come back next month for your summer pet fashion forward fix. Happy July!
Want fresh news on fabulous fashion & how to live a stylish life with your pets? Get it here, with a dash of Jody's style, at Bark & Swagger (http://www.barkandswagger.com). Enjoy expert product reviews, giveaways and prizes first when you join the Bark & Swagger Family Style Team. Brought to you by Jody Miller-Young…pet fashion expert, designer, journalist and radio host.