Finally, bones are beginning to thaw and dogs are happy to go outside once again. That can only mean one thing: summer lovin' is a comin'! Let's get a jump start in dressing our pups right on trend. Here are my top 5 summer fashion trends 2015:
1. The Delicate White Dress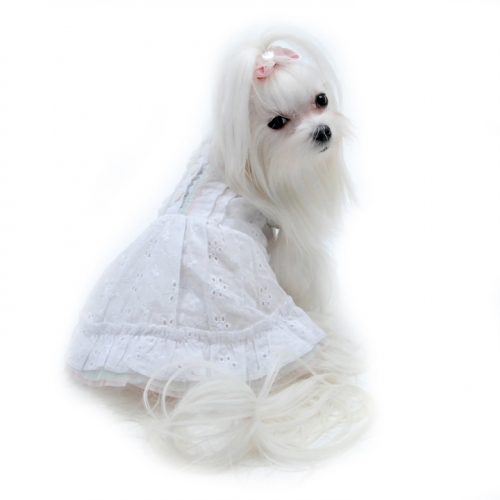 Breezy and beautiful; comfortable and chic, the delicate white dress is popping up everywhere on runways for spring and summer. Whether filmy, lacy or of the softest cotton, these dresses take you to the beach, the dog park, even a casual wedding! Shown here is the Angel in Disguise white eyelet tank. Just a hint of pale pink and mint green tulle on the ruffled hem, and pale pink and mint green lace trim on straps and bodice. An unexpected touch (we love those!). Just perfect! BitchNewYork.com.
2. Spice Market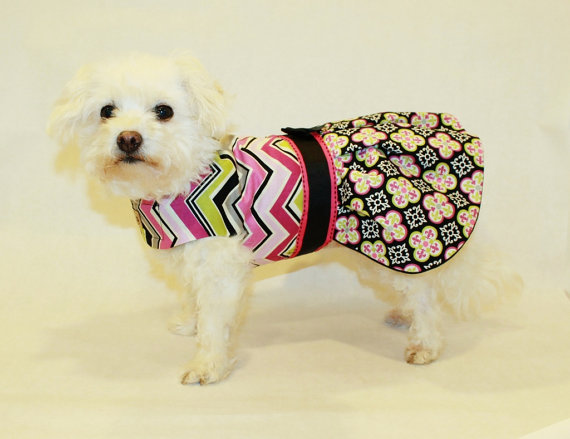 This dress actually combines two summer runway trends – mixing prints and spice market.  The top is a modern chevron design in cool lime and yummy raspberry; the skirt is done in a coordinating Moroccan quatrefoil print. It's trimmed in a wide, hot pink ribbon with a black ribbon and bow overlay. Designed and made by Patty Schranz of RockinDogsCoolCats on Easy. Easy on easy off velcro at the neck and chest. Patty also added coordinating webbing and a D-ring at the back so it can be attached toa leash. Hand Wash/Line Dry.
3. Fashion as Art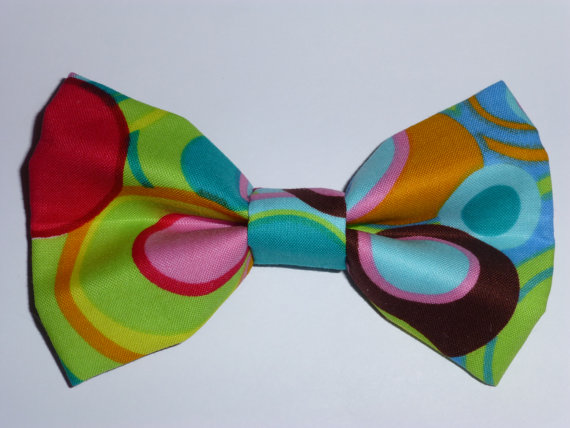 Inspired by iconic pop artists like Roy Lichtenstein, Mondrian and Sonia Delaunay, the fashion as art trend is seen as bold circles, bright colors, bold intersecting stripes and interesting art forms. I liked this bow tie from CarlitoCreations because it embodies both the bright colors and bold, circles fabric. It's a definite stand out for a sassy girl or boy and easy to wear. Two elastic bands attach it to your dog's own collar and, voila! Made of 100% cotton and ScotchGuarded for extra protection.
4. Juicy Fruit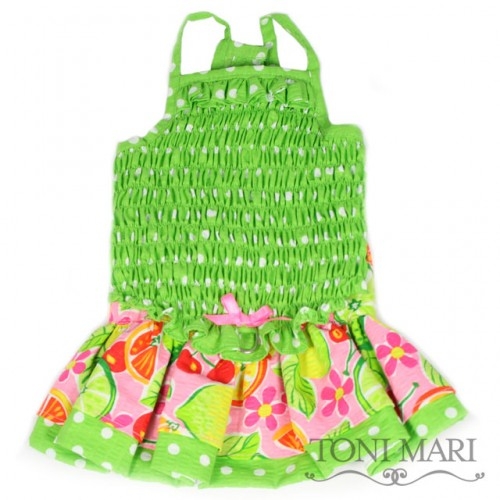 The vibrant colors and fun prints of the fruity trend screams summer! I love this lime green, matching two-piece ensemble by Toni Mari. The smocked bodice with ruffled front edge, mini satin waist bow and shirred double skirt is so fashionable it embodies what this trend is all about. I found it on BitchNewYork.com, one of my go to destinations. Machine wash cold, gentle cycle. Hang to dry.
5. Nautical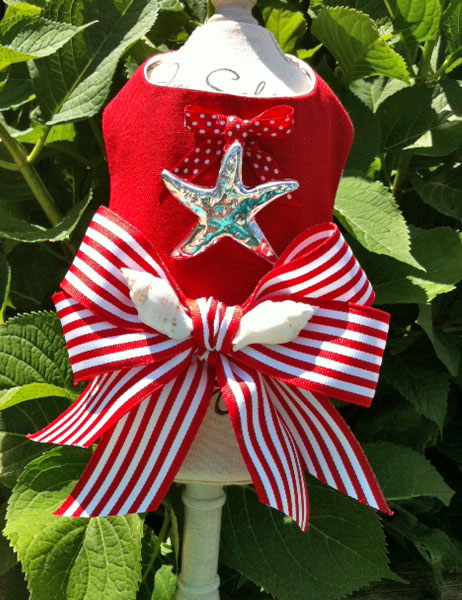 Nautical is an enduring trend and my friend, designer Janice Craig of Belle Diva Couture, does it beautifully with this harness. Made from a lovely red cotton duck fabric and fully lined in white satin, the harness features a silver starfish (when available) or a real starfish and several small shells nestled into the striped ribbon. The perfect piece for an outing on the boat or a stroll on the boardwalk.
Hope you enjoyed my taste of the summer fashion trends of 2015. Sundresses, Boho, Blue, Black & White and Khaki are a few more we didn't include. As always, enjoy it. What good is fashion if it ain't fun, right? And this year's palette is feel good and easy to access. Stay tuned for next month, when we'll tackle must haves for the beach!
What summer trend do you love?
Want more info on fabulous dog fashions, expert product reviews, giveaways and prizes? That's why Bark & Swagger created the "SwagTeam Community." Grab your Free invitation at http://barkandswagger.com/ As a bonus, you'll receive "The Top 10 Most Popular Holiday Gifts for Dogs" report. Brought to you by Jody Miller-Young…pet fashion expert, designer, writer and radio host.