I love my job! What could be more fun than to research fabulous pet fashion everyday? OK, maybe to live on a farm, surrounded by animals. But, until then, I think I have one of the best jobs on the planet. It's all about summer right now, and I'm already envisioning laying by a pool or on a beach somewhere, preferably with Sophie. For those of us planning a getaway with our pets, we need to have our summer beach essentials handled. Let's get in the mood. So, pull out a beach blanket, grab a trashy novel, mix a killer mojito and let's go!
I am a big fan of Luna Blue Hawaii, the ultra-cool designer dog brand from the Big Island. Their prints are traditional Hawaiian motifs, they have a great sense of color and style, and the clothes are soft and comfy. How cute would your little one look lounging on your beach towel or chaise lounge in this?
This is a really charming collar, perfect for beachwear. Vintage-inspired, featuring turn of the century, curvy ladies enjoying a summer outing at the beach, I love the vibrant colors used by designer, Uptown Pooch. This piece is also practical and strong. It's made from 100% nylon webbing, welded D-rings, triple stitched stress points, and contoured side release buckles.
Clean, simples lines with crisp, lightweight cotton make this harness a perfect summer choice. Designed and made by NemiCouture, the sailor collar features satin stitched lines and a little sailboat with compass points is embroidered on the back. The D-ring is discreetly hidden under the collar's edge and the whole package ties neatly with velcro at the neck and waist. A breath of fresh air when you see your pet in this…included.
This whimsical seascape, with seahorses emitting crystal bubbles and pearls floating on the sea bed, is an adorable harness dress for a long walk on the beach. The blue satin bodice features intricate embroidery by NemiCouture, and I love the strategically placed stones amongst the sea scene. The skirt is made from a turquoise and blue wave chiffon. All in all, a lovely little piece.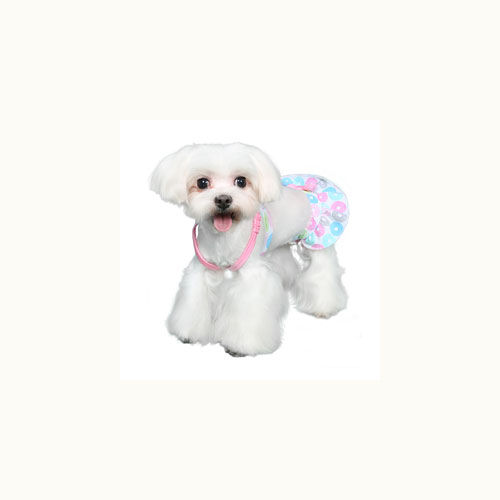 I just love the retro print and the colors of this bikini! Pastels are so on trend this year, and how cute does this little pup look in her swimsuit?! Designed and made by WaggyCouture, from a 95% poly/5% spandex blend, this will stretch and keep it's shape. I like how they've made the shoulder straps elasticized for comfort, and the pink bow detail on the rump is just too adorable!
I hope you've found some inspiration for designing or finding great beachy fashion for your pet. It's been so much fun sourcing these pieces for you, and I look forward to bringing you more seasonal fashion tips next month!
Are you planning a Memorial Day Weekend getaway with your pet? Tell us about it in the Comments below.
About Jody Miller-Young  
As a designer of luxury dog apparel under the Couture by Sophie brand (www.couturebysophie.com), Jody Miller-Young brings her love of runway chic to the dog fashion arena. Her debut collection, The Icons, paying homage to fashion icons in music, created a small army of Couture by Sophie fans.  Her passion for design and the desire to share her finds with others led her to create Bark and Swagger, the everything- dog-fashion-and-more site (www.barkandswagger.com). On Bark, Miller-Young offers tips, talks trends, writes reviews and conducts interviews with experts of interest in the dog world. She also covers the celebs we know and the dogs they love and devotes a regular column to shelter dogs and to the hero angels who advocate for them.