I think most of us need a pick me up about now. As I'm writing this, it's -2 degrees and the wind is howling. I know not all of us are toughing it out in this frigid winter. For those lounging in the tropics or our southern or southwestern friends, we're jealous, ok?! There, we said it.  So, to put a bit of Spring in our step, I'm focusing on fun sweaters for the season of rebirth, in Pantone's hot colors for 2015, natch.  Grab your favorite beverage, get comfortable and let's take a look at what some under-the-radar designers have to offer.
The Pantone Color Picks for Spring 2015 include the delicious colors Marsala (the official color of 2015), Tangerine, Toasted Almond, Lucite Green, Aquamarine, Glacier Gray, Custard, Strawberry Ice, Classic Blue and Scuba Blue.  Here's the chart, so you can see what shades these are and we can talk about Spring Sweaters for Pets in Chic Pantone Colors: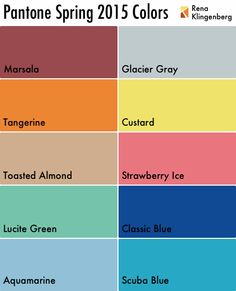 Classic Blue Burst of Fun!
Sassy and super cool, I love this furry knit, perfect to add some flirty fun to any brisk spring walk. Made by designer, Chantal Schlesser of  label Fifi Me, it has a retro feel I also love, like an incredible find at a flea market. And, it comes all the way from Turkey!  Using long hair and dralon yarns with decorative buttons, this is a made to measure item, as is all of Fifi Me designs. Though it's incredible cute, it doesn't break the bank at $27.00. There are many adorable variations on her furry sweaters and other great styles in her Etsy shop.
Mi piace Marsala!
This very chic marsala-colored crocheted sweater coat is very Italian, so it's no surprise it comes from Venice! Designer Nerina lists the materials she uses as acrylic, wool, love, quality, care, precision, italian style. We gotta love that. These, too, are made to measure, and how stylish your pup will look, sporting this sporty yet feminine piece for spring. Love even more at just $67.00 and also comes in white.
Glacier Gray Goodness
Such romanticism! How precious is this on trend Glacier Gray crocheted sweater with its dusky pink flower, adding that whimsical touch? Pretty darn cute! Designed and made by Virginia of Cutie Grace out of Orlando, Florida, it features acrylic yarn and lots of love. Made to measure, as well. And, only $33.00 for some feminine fun!
A Pantone Plethora of Color!
Lovely from Latvia, Agija Senberga's Billieshop does it right with this riot of fringe and fluff, featuring the triple threat of Pantone's Lucite Green, Glacier Gray and Strawberry Ice.  Made from wool, acrylic and mohair yarns, it's playful and makes a great statement of style to brighten any day.  At only $20.00, I'd buy a couple in different color combinations!
Now, don't you feel better already? Color and creativity always do that for me. Making it fun and looking outside the box, whether you're creating yourself or searching for designs you love, make it that much more fun. Maybe, if we all concentrate really hard on the beautiful colors of Spring, our energy will melt the ice of winter. Hey, it's worth a try! Wherever you are, enjoy the hunt for statement sweater styles!
Which Pantone Spring color is your favorite?
Want more info on fabulous dog fashions, expert product reviews, giveaways and prizes? That's why Bark & Swagger created the "SwagTeam Community." Grab your Free invitation at http://barkandswagger.com/ As a bonus, you'll receive "The Top 10 Most Popular Holiday Gifts for Dogs" report. Brought to you by Jody Miller-Young…pet fashion expert, designer, writer and radio host.