Fiery, coral, burnt, pastel…orange has taken over spring/summer fashion with a death grip that won't let go. But, it hurts so good because this trend is a winner! This month, we're going to explore some examples of this warm weather trend.
It's a girl's world, and you're just livin' in it
I love outfits. Each piece doesn't have to be made to go together, but something about it works and I have a go to look. I've done the same thing here. Her look is an airy, 100% cotton summer shift with tied bows at the shoulders, a white bow appliqué on the back, and a double tiered skirt featuring a row of rhinestones adorning the edge. This sweet, bright orange and white dress is comfort meets chic. To go with, I chose a darling little collar by Apple Designs. The cool teal webbing is a great contrast color, and the orange flowers make this collar a perfect match! The baby will travel in comfort in a tangerine orange stroller, so you can navigate the boardwalk or shopping district with equal ease. Mom, you can rock a silver and orange dog bone friendship bracelet from Heart U Back, a new collection of jewelry created to benefit the ASPCA (American Society for the Prevention of Cruelty to Animals). Heart U Back founder, Gavin Kovacs, has pledged at least $125,000 to this cause, and a percentage of the purchase price of each Heart U Back item sold goes towards it.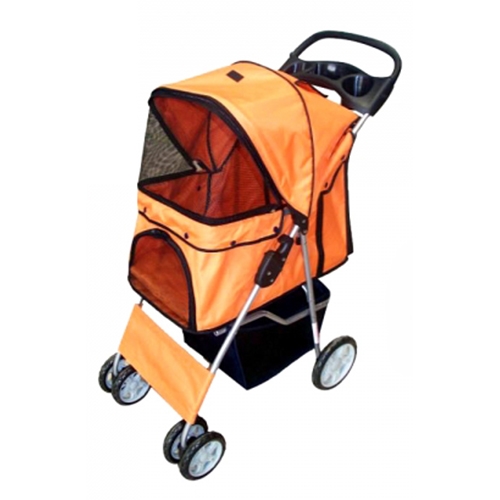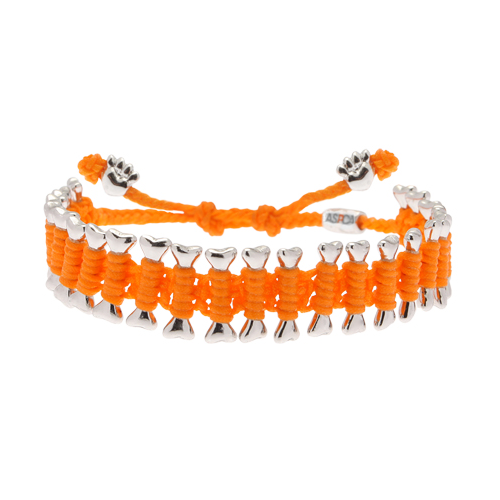 Let's hear it for the boy!
The little men in our lives can swagger with style in this great-looking, 100% cotton Sentiment Tee. A natural colored background, emphasized by a bright orange ribbed trim and two orange and chocolate trees, are all accented by a rainbow-colored seam thread. A tiny orange heart adorns the chest and the boy is ready to go anywhere, from a beach party to a dinner on the boulevard. For the collar, I chose a simple, elegant Hartman & Rose brown Italian leather collar, with gold hardware and name plate. It like that it brings out the browns in the tee. This top is a statement piece; a classic collar works best. For the leash, I like the orange rescue leash. It's a bit beachy, yet makes a statement. It's called the 'Found My Animal' lead, as orange is the color signifying rescue dogs. This leash is spliced and whipped using custom made rope, an extremely durable yet luxurious alternative to leather. Each leash can withstand thousands of pounds of pull. A marine grade solid bronze clip is on either end. Each leash comes with a indvidually numbered solid brass "FOUND" tag, because a portion of the profits go directly to the Louis Animal Foundation, a non-profit group dedicated to finding homes for animals who have not yet 'found' their place. Nice! The boy will also need to move from car to beach to shopping and eating in style. For that, I chose an Around The Collar sling carrier in orange microfiber with brown leather pockets and strap. It's sturdy, good-looking and very well made, with two good-sized pockets and a leash to secure your baby inside.
The orange trend will be with us all summer and into the fall, so find your perfect piece or rock the look. Your pup will pop with cheerful color and summer style!
What do you think of this trend? Have you used it in any of your summer designs? Let us know in the Comments below.
About Jody Miller-Young  
As a designer of luxury dog apparel under the Couture by Sophie brand (www.couturebysophie.com), Jody Miller-Young brings her love of runway chic to the dog fashion arena. Her debut collection, The Icons, paying homage to fashion icons in music, created a small army of Couture by Sophie fans.  Her passion for design and the desire to share her finds with others led her to create Bark and Swagger, the everything- dog-fashion-and-more site (www.barkandswagger.com). On Bark, Miller-Young offers tips, talks trends, writes reviews and conducts interviews with experts of interest in the dog world. She also covers the celebs we know and the dogs they love and devotes a regular column to shelter dogs and to the hero angels who advocate for them.