Whether we're entertaining, event hopping, or simply stepping out, holiday is a time to shine. This year's fashion trends for the season let us and our furry friends do just that. From sexy lace to rich velvets, from brocades and floral prints to deep solid hues, and of course sparkle and shine galore…there's no shortage of the fabulous in what's trending for holiday 2014. I love finding unusual things for you. So, here are my holiday tips for festive dressing off the beaten pet fashion path.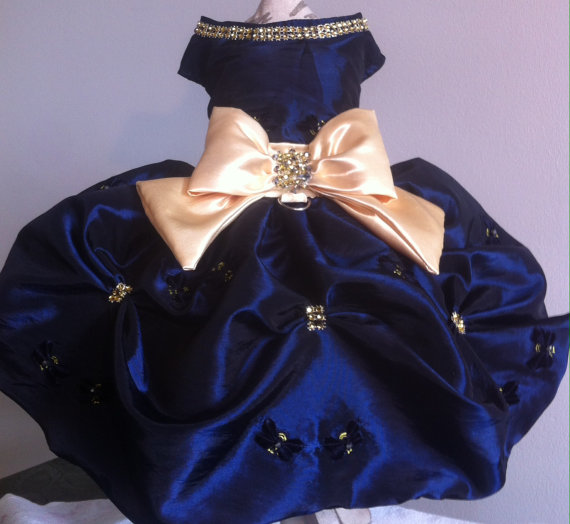 We're Royals, darling…
This spectacular royal blue taffeta dress begs a holiday dress up. I love the unexpected peach statement bow at the waist, and the soft gathers and crystal embellishments work beautifully here. Made by Victoria Melnik of La Vida Pet Fashion, out of Thornhill, Ontario, this creation is true couture and made to order. Love love!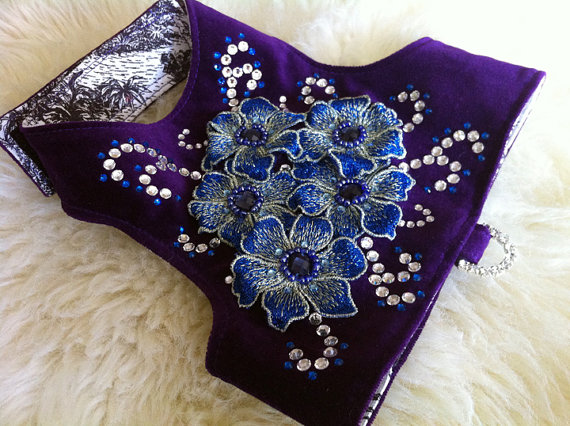 Naughty but nice
Pet couturier, Mario Laliberte, of Vienna Canine Couture in Montreal, Canada, is a master of interesting embellishment. He also has one of my favorite dogs – a Chinese Crested, named Maya. She's gorgeous and often models for him. This shade of rich violet always reminds me of sexy darkness, like vampires. I love the rich depth of this color in velvet, and the Swarovski Elements encrusted royal blue flowers are especially expressive. Choosing a color on the darker end of the spectrum for the blue,  but with a bright hue, magnified by the crystal embellishments, they literally pop off of the fabric. And, the vest is lined completely in toile. Nice. Whatever boy wears this attention-grabber, will be a very dapper little guy, indeed. Sizes XS – L and will tailor for perfect fit, as well.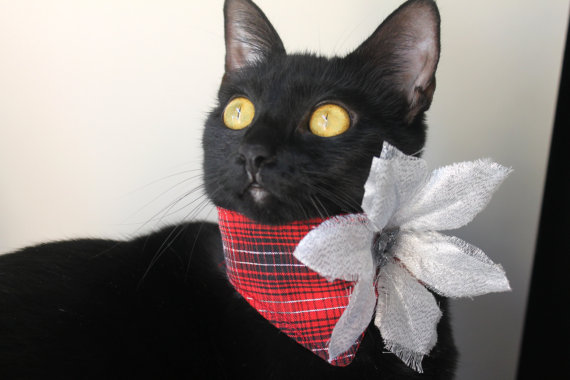 'Tis the Season for Purrfect Plaids
I love the Gatinela shop on Etsy! Shop owner, Daniela, is out of Orlando, FL. and her business tagline is "where cat fashion is inspired, inspected and approved by our black beauty: Shinobii." And, she is a looker! Dressed here in a very on trend red plaid scarf collar, with a seasonal poinsettia feature, Shinobii is ready for a cool, downtown partey! Made from lightweight materials and all hand done, there are a wide variety of different styles and colors, modeled by Shinobii. One could be perfect for your baby!
Fit to be Bow-Tied
Little boys looking to get their holiday style on this season need look no further than Buggsly.com. We're big on Canada this month, as Buggley, is Toronto-based. They make the coolest bow-ties for dogs and their best friends, i.e.: matching ones for  humans. All ties are made from natural or re-cycled materials, so they're eco-friendly. A portion of the proceeds from each product sold goes to a charity working to preserve our planet. Love this company! This bow-tie is called the Paw D'Noir Dapper Dog. It's elegant, with a bit of fun, and in very chic black and white. For a bit more pop, check out their fabu pop culture pieces.
Summary
The holidays are fun! I love the excuse to dress up. When we include our pets, it becomes a great opportunity to bond. And, while we love for them to look beautiful, we want them to be safe and comfortable, too. Make sure whatever you choose to adorn your best friends with,  there are no loose pieces that could be hazardous if swallowed and no long trains that impede proper movement. Think a dog's version of our 6″ stilettos…ouch! 🙂 And, it's recommended to keep an eye on your dog when wearing clothes, just in case they might require our help.
Have a safe and happy holiday!
Do you have a favorite holiday outfit for your dog? Tell us about it in the Comments. 
Want more info on fabulous dog fashions, expert product reviews, giveaways and prizes? That's why Bark & Swagger created the "SwagTeam Community." Grab your Free invitation at http://barkandswagger.com/ As a bonus, you'll receive "The Top 10 Most Popular Holiday Gifts for Dogs" report. Brought to you by Jody Miller-Young…pet fashion expert, designer, writer and radio host.