If ghouls and goblins, pointed hats and broomsticks are starting to invade your psyche, it can only mean one thing. You may need an exorcism? No! Halloween is coming, silly! I've gotten a head start for a change this year, and already ordered costumes for Sophie and Jasper. Sophie is going to be the little butterfly she is, and Jas…well, he's my wild animal, so he'll personify the part as a fashion forward zebra. I took to Etsy, one of my go-to destinations for off-the-radar, unusual pieces, to find adorable and just plain cool costumes and costume accessories for our Halloween pet parade of fashion! Here's what I love: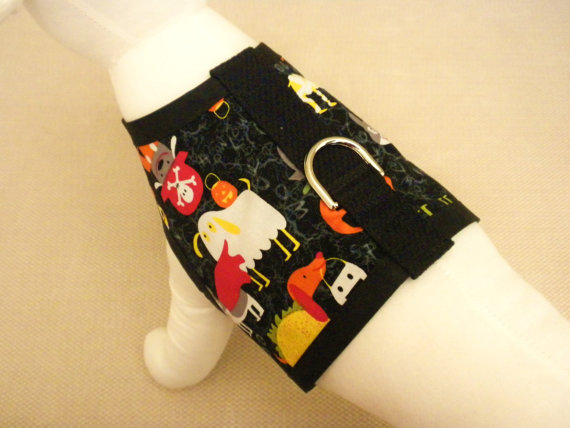 LittlePawsApparel has an adorable collection of all cotton holiday and season-themed harnesses. This one, featuring costumes of Halloween, is a fave, with its pirate hat-wearing pooch and candy basket-carrying hound. Like most harnesses of this style, it has velcro closures on both neck and underbelly, with a D-ring for easy leash attachment for those fun trick or treating romps.
Dolly Parton is frantically searching for her hair! Who'd imagine it'd end up on your pup for Halloween. This crazy fun, synthetic wig from Robert Mrazik of Wigmasters Dream, is the perfect piece to either build a costume around or add that statement finishing touch. But, fabulosity doesn't come cheap. At $100, this custom-designed wig is built for comfort, featuring ear holes and hair nets (shown). You want free-flowing locks? Just remove the nets, which add another several inches to the 'do. The wig is made for medium-sized dogs with ears that stand up. Anybody for a hootenanny?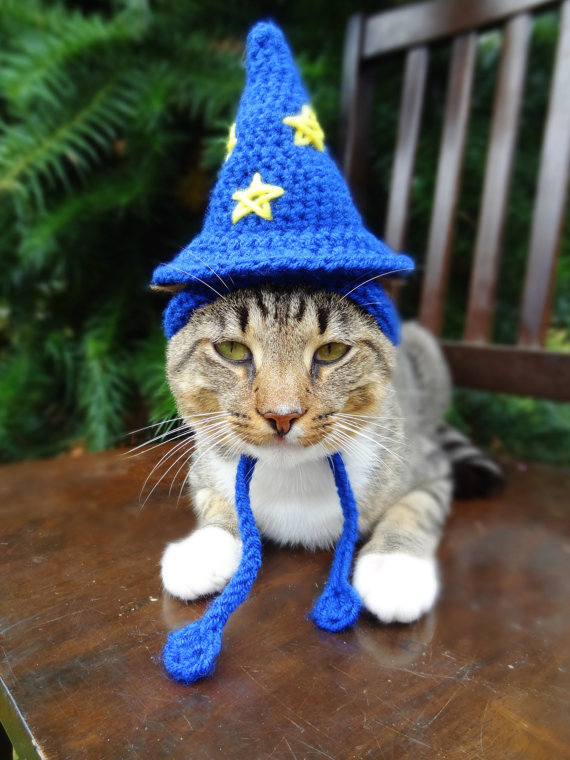 Look into my eyes…you vill now fetch the catnip! Bullwinkle, the kitty, is a master of spells in his witchy, acrylic yarn Halloween hat. With a wide variety of clever themes for cats and dogs (I even saw a hat for a rat),  iheartneedlework's Meredith Langley has created something different and fun, that will stand out. If you're interested for your pooch or kit, she has a four week delivery.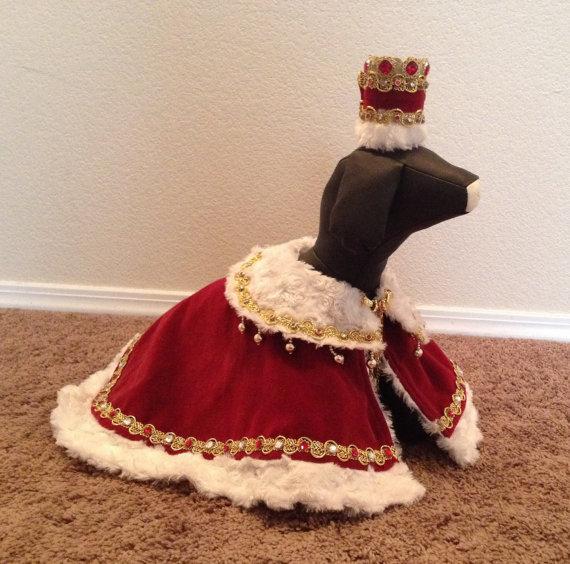 "And we'll never be royals (royals). It don't run in our blood, That kind of luxe just ain't for us. We crave a different kind of buzz." Phooey, Lourde! If we can't be royals, our pups certainly can in this lush velvet, embellished cape and matching crown from Pinklilydoggiedesign. This bedazzled beauty is made to order, and you can request any color of velvet you'd like. The lining is made from a cozy faux or minky fur. The cape is embroidered with metallic gold braid and rhinestones. The coordinating crown is made from the same fabrics used for the cape. Warning that playing royalty dress up can go to his head; not included.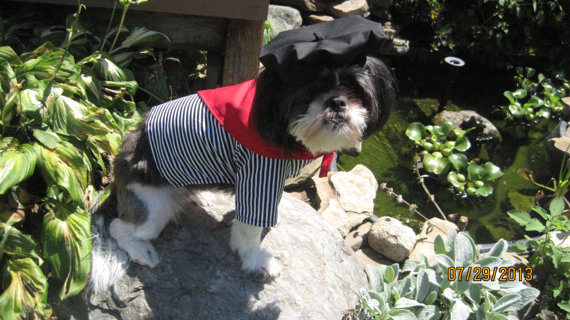 Sacre´ bleu! You're cute!  I was totally charmed by this little Frenchman costume created by Dani of SewDoggoneCreative. It's simple but makes a distinct statement that your doggy is discerning, and of course, loves wine and cheese. Handmade for sizes up through medium, the black and white striped cotton shirt (very chic right now), pop of color bandana and perky beret are just the ticket to make the bitches swoon. Hang on to that hat, little fella!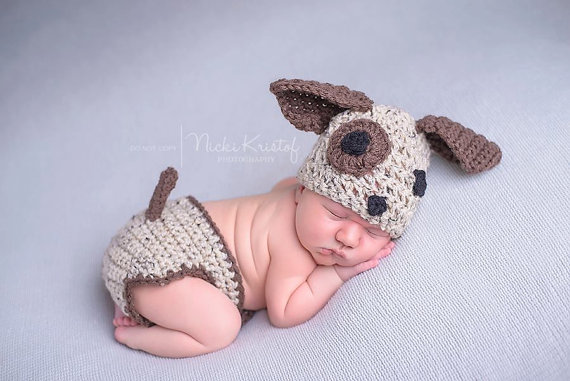 This little puppy got plum tuckered out just thinking about Halloween fun to come. I love the fun crochet ensembles by Aimee Barro of TreasuredCreation. Our pups and kitties are our babies; vulnerable and needing us to watch out for them, just like this little baby. So, we finish on that note this month. Have loads of Halloween fun and remember to protect your pets from any holiday dangers – in your home, on the street and with the costume choices you make.
What's your pet's Halloween statement this year? Tell us about it in the Comments below.
About Jody Miller-Young  
As a designer of luxury dog apparel under the Couture by Sophie brand (www.couturebysophie.com), Jody Miller-Young brings her love of runway chic to the dog fashion arena. Her debut collection, The Icons, paying homage to fashion icons in music, created a small army of Couture by Sophie fans.  Her passion for design and the desire to share her finds with others led her to create Bark and Swagger, the everything- dog-fashion-and-more site (www.barkandswagger.com). On Bark, Miller-Young offers tips, talks trends, writes reviews and conducts interviews with experts of interest in the dog world. She also covers the celebs we know and the dogs they love and devotes a regular column to shelter dogs and to the hero angels who advocate for them.