There's lots to be thankful for around the holidays, and every day. We know we're blessed with great things – whether it's good health, love in our lives, good friends, family, opportunity. And, let's take a moment to honor that. Great! OK, now can I just say it? One thing I'm thankful for, that somehow was left off the memo? Pet fashion! Just think how dreary life would be without it! We wouldn't get to see an adorable pudgy pup waddling in a festive tutu, or marvel at the elegance of a beautifully turned out furashion plate. We also wouldn't have the opportunity to get creative with our pets, making some wild and wonderful designs or helping them express their fabulous personalities. It's agreed, then. Pet fashion is good. 🙂
I thought I'd give you some food for thought around a big food holiday, with some off-the-beaten-path creative choices, very wearable for Thanksgiving. Let's the parade begin! No turkeys allowed.
Thanksgiving Owls Dress
I just love the vibe of this cool, little dress; all that'a missing are some cowboy boots! The fun, cotton owl print, paired with a wide satin belt and chocolate tulle underskirt, is beautifully put together by Marcola, Oregon-based designer Amy Vlasak of All About Elegance. Bringing home her Yorkie, who was 2 lbs at the time, gave her the inspiration to start making dog leashes for tiny ones. Pet jewelry and now, dresses, followed. Her fashions are pretty and her leashes, which feature real beading and chains, are lovely, strong and reasonably priced. Here's another view of the dress, for which she's also made a matching hair bow.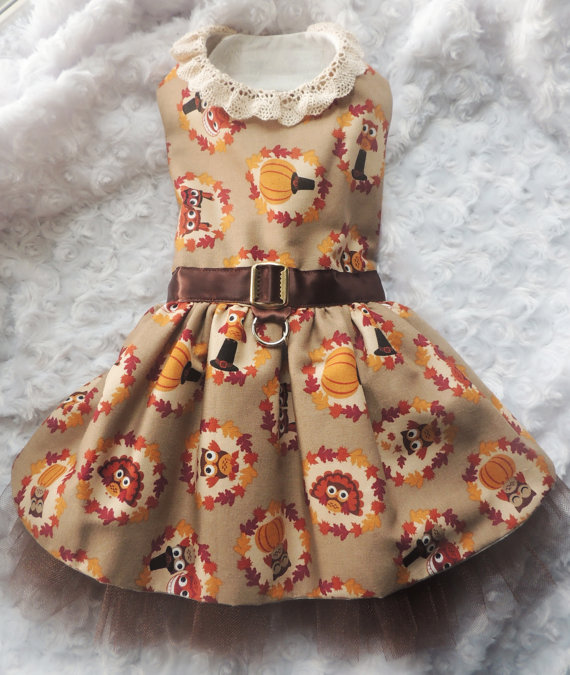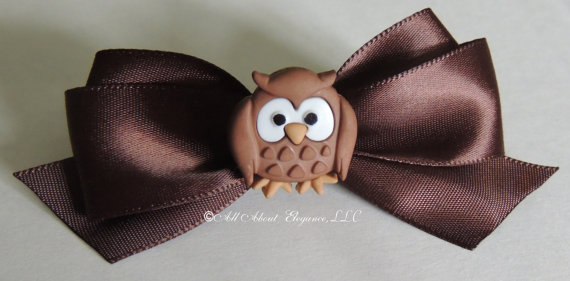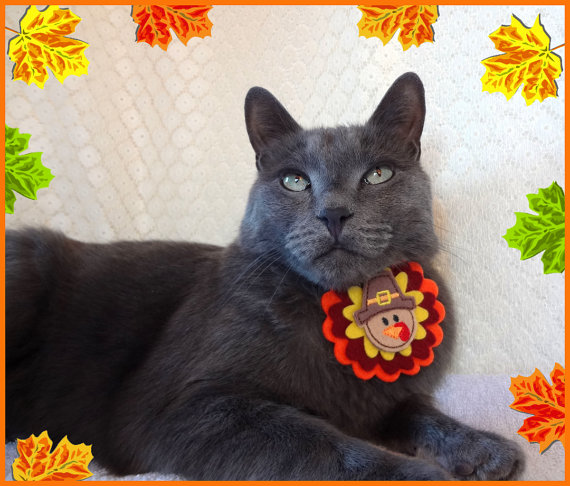 Thanksgiving Pilgrim & Turkey Flower Accessory
I can't figure out if the cat is saying 'How much longer do I have to wear this thing," or he's feeling very stylish and too cool for school. Whichever it is, this attention-grabber neckwear is a great holiday choice. It's bright and colorful, and boasts the cutest darn pilgrim this side of Plymouth Rock. I'm loving it! This is from WhiskersnTails, who show several styles of this piece, all really cute. They're made from felt and elastic and slide right onto your pet's collar. Easy on, and you're done!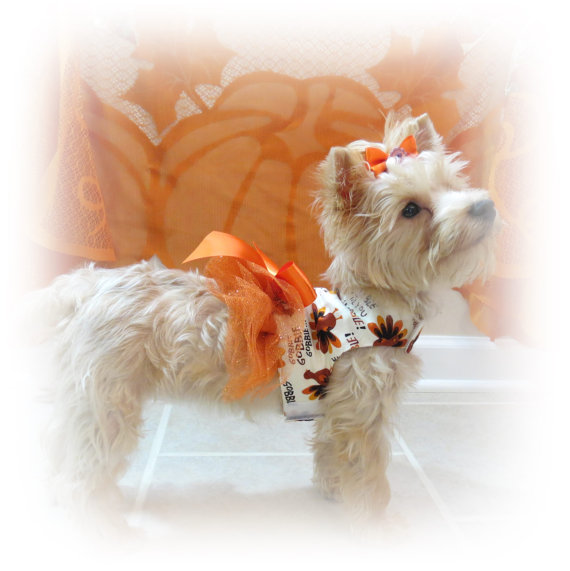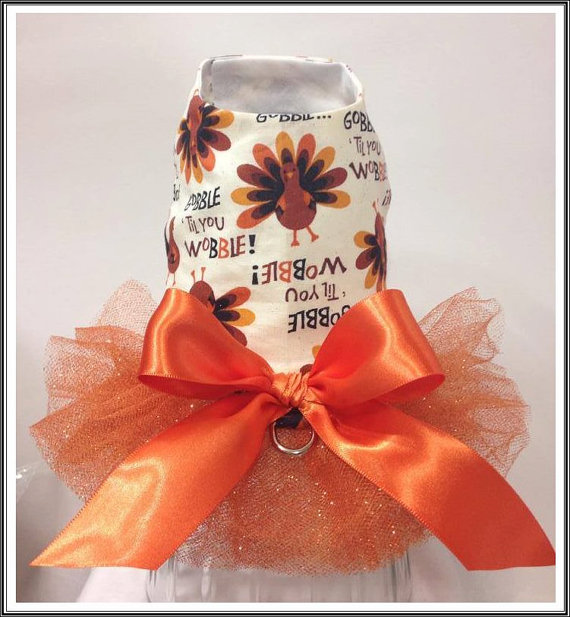 The Gobble Wobble Harness Dress
I love a bit of sparkle, and FourFootedFashions' Barbara Kenyon, from Stockbridge, GA., does it right. This adorable holiday harness features a cotton "Gobble 'Til You Wobble!" print, with a dazzling orange tulle tutu and generous, satin bow that just finishes the piece with pizzazz. I excused this turkey for excessive cuteness.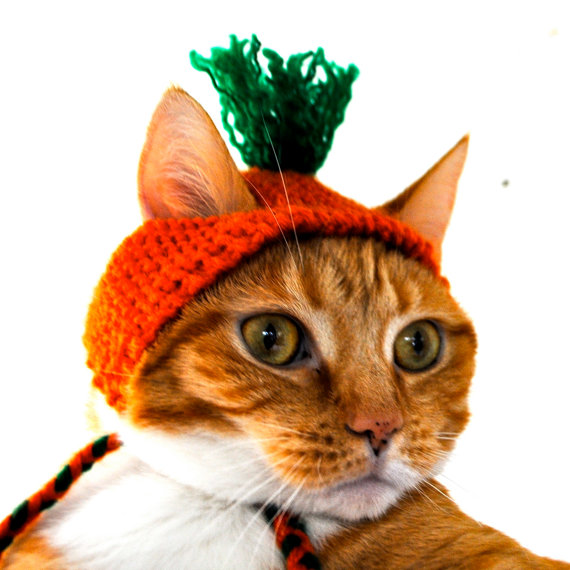 Hand-knit Pumpkin Hat
Am I kidding? Well…no. Kolbe, the Albany-based designer behind BitchKnits, actually makes some pretty amazing hats for costumes and tooling around the house for cats and pups. They make me laugh. This one is hand-knit from acrylic yarn and, if you can't tell, it's a pumpkin. The 10-lb tabby sporting it, can't figure out if he's embarrassed or feels fierce in his fashion choice. But, I say, rock on, little beanie! You'll definitely spark some conversation around the table with this piece.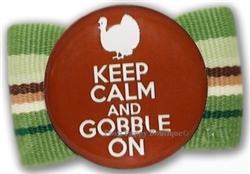 Keep Calm and Gobble On Bow
How could you resist this saying with so many interpretations. Is the turkey gobbling on, even though he knows his days are numbered? Is the pooch gobbling on with his yummy Thanksgiving, despite a house full of strangers making him nervous? Is it a truism about life? Who knows? Do we care? No! Why? Because people will smile or laugh when they read it on your dog's head. And, the autumn stripe grosgrain ribbon is the perfect backdrop.
I had fun writing this! Hope reading it makes you smile. Mix it up this Thanksgiving and find some unusual pieces to try. After all, experimentation is the father (or mother) of innovation. I find the coolest things on Etsy, so that's a big recommendation. Whatever you do, be safe and savor the time with family and friends. See you next month!
About Jody Miller-Young  
As a designer of luxury dog apparel under the Couture by Sophie brand (www.couturebysophie.com), Jody Miller-Young brings her love of runway chic to the dog fashion arena. Her debut collection, The Icons, paying homage to fashion icons in music, created a small army of Couture by Sophie fans.  Her passion for design and the desire to share her finds with others led her to create Bark and Swagger, the everything- dog-fashion-and-more site (www.barkandswagger.com). On Bark, Miller-Young offers tips, talks trends, writes reviews and conducts interviews with experts of interest in the dog world. She also covers the celebs we know and the dogs they love and devotes a regular column to shelter dogs and to the hero angels who advocate for them.